WHAT'S NEW: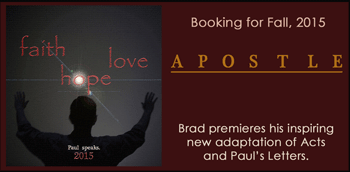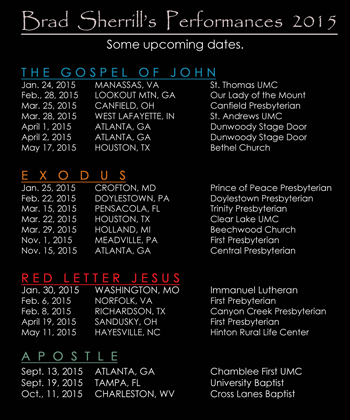 'THE GOSPEL OF JOHN' RETURNS FOR PERFORMANCES DURING LENT, 2015!
Brad Sherrill presents his inspirational touring performances of 'The Gospel of John', 'Red Letter Jesus', and 'Exodus' in churches and theaters nationwide in 2015. Let us work with you to plan a moving, unforgettable event at your church or venue.
Contact us.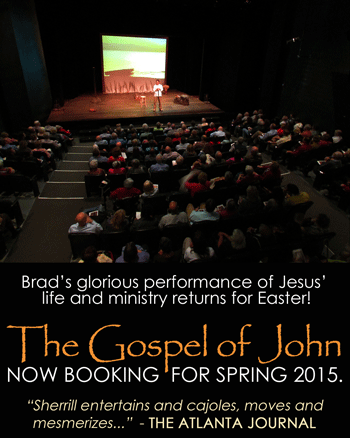 RED LETTER JESUS
Brad Sherrill's extraordinary performance of Jesus' words presented with beautiful new videography from Israel and Jordan. Now booking performances for 2015!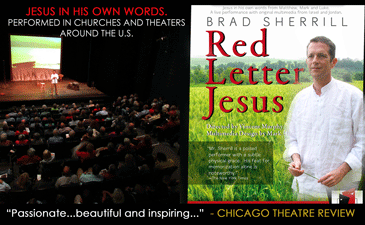 From Chicago Theatre Review: "Mr. Sherrill's demeanor is warm, comforting, and sincere. He massages each story into teachable moments. His reaching out to audience members, as a gentle preacher or minister, seemed simply natural...."
Read more.

OLD TESTAMENT THEOLOGIAN
WALTER BRUEGGEMANN REVIEWS EXODUS:
There is no greater Old Testament authority today than Walter Brueggemann, author of over 80 books and widely considered to be one of the most influential Old Testament theologians of the last several decades. We were honored to have Walter Brueggemann and St. Timothy's Episcopal in Cincinnati host Exodus on Friday, April 11th, 2014. Here are excerpts from Walter Brueggemann's review of the performance:
"I hope Exodus will receive wide attention to the advantage of the church. Brad Sherrill has managed to combine serious engagement with the text with a great artistic sensibility that invites his audience into the wonder and demands of the narrative. His performance runs the emotional gamut and shows how the narrative itself, and the God who occupies it, are capable of such emotion. Brad has caused a great buzz at our church, with folks being deeply engaged and greatly invested in what he has evoked."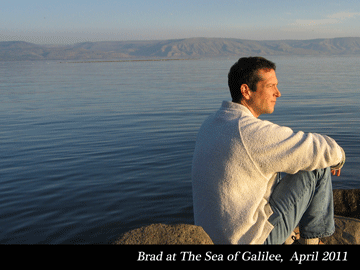 BRAD SHERRILL'S BBC INTERVIEW.
Listen here.
Brad's interview story with the BBC, (which aired from Belfast, Northern Ireland on April 13th, 2008) was broadcast during The Gospel of John's 2008 Cathedral Tour of the U.K. and Ireland.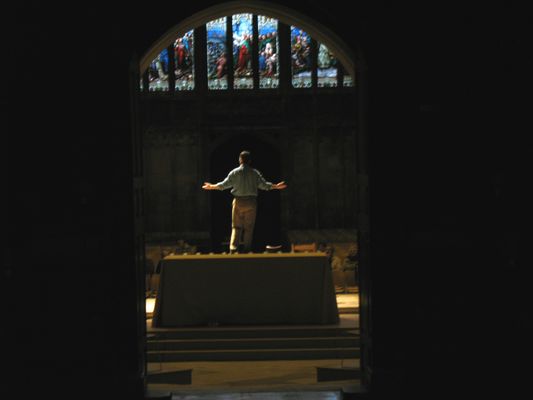 Photo: Brad at Gloucester Cathedral (U.K.)
View more photos from Brad's cathedral performances throughout the U.K., Ireland and Northern Ireland.
Read articles and reviews from pastors, educators and audience members who attended the European performances.