What's New!
BRAD SHERRILL PREMIERES 'APOSTLE' AT CHURCHES NATIONWIDE IN FALL, 2015. Experience Brad's riveting new portrayal of Paul's epic journey in Acts along with segments from Paul's most inspirational letters in this deeply-moving new show. Brad will offer all four of his performances this coming year, including Apostle, The Gospel of John, Red Letter Jesus and Exodus.
Contact us.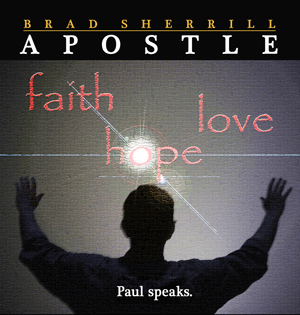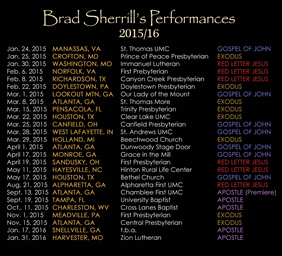 BRAD SHERRILL'S PERFORMANCES
A HISTORY:
Brad Sherrill, an Atlanta-based professional stage actor, began his national touring performance of The Gospel of John in 2001. Sherrill's one-man performance of the entire New Testament gospel has since been presented over 600 times in professional theaters, cathedrals and churches across the United States, Canada and Europe (including a six-week run off-Broadway at New York City's historic Lamb's Theatre in 2003.) Other professional theater runs of The Gospel of John include Chicago, Washington D.C., Toronto and Atlanta.
At The Gospel of John's Washington D.C. premiere in 2002, The Washington Post stated: "It's not just the intensity of Sherrill's performance that…brings the story home. It's also the simple stroke of genius in performing the entire gospel, unadapted, as drama. Passion, longing, envy, greed, ambition, intrigue and betrayal -- it's all here, and it is riveting."
Sherrill has premiered other biblical performances in professional theaters during recent years including Prophets, based on the Old Testament texts of Isaiah and Jeremiah (produced by Georgia Shakespeare Co., Atlanta, 2010) and Red Letter Jesus, based on the New Testament gospels of Matthew, Mark and Luke (produced by Provision Theater, Chicago 2013.) His latest works include Exodus (2013) and Apostle (2015.) The latter three productions are performed on stage with extensive multimedia presentations, including videography gathered by Sherrill's team during numerous visits to the Middle East.